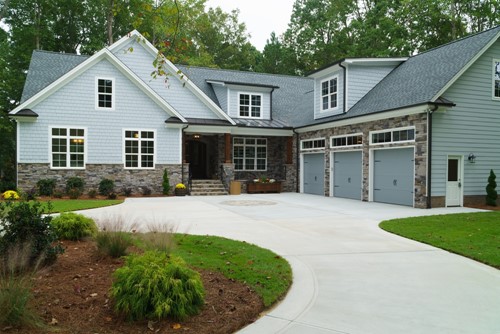 After living in a small apartment or crowded house, you might be dreaming of having more space, a bigger closet, or just one more bathroom to ease the clutter and closeness. When is a larger home the answer? Before making the leap to more square footage, consider all the factors that fill the bill. If upsizing is the right move, embrace it with confidence.
Household size
If you intend to grow your household by adding children, inviting more housemates into your tribe, having lots of guests, or bringing in aging parents, you may need a larger home. Depending on the scenario, square footage and the number of rooms aren't the only considerations. Homes designed for families with children would not necessarily be the best alternative for housing aging parents or as shared space for working adults.
Some areas to consider are:
Stairs: with small children, elderly adults, or residents with disabilities, a home with stairs may not be as useful as a single-story home. Due to property-size constraints, larger homes with additional bedrooms and bathrooms tend to be multi-storied structures. While offering more space, the challenge of maneuvering stairs might not be the right choice. Pay special attention to the number of steps required to enter or leave a home as well. For some people, negotiating just two or three steps up to the front porch might be problematic. Work with your agent to determine what configuration meets the needs of your unique household.

Bathroom arrangements: Homes designed for nuclear families often have joint bathroom arrangements just as a Jack and Jill configuration with a shared bathroom between two bedrooms, or a shared hallway bathroom. If en suite baths better serve your household, offering more privacy to housemates, let your agent know that's what you need.

Mobility: Homes for aging parents or members requiring assistive aids such as wheelchairs or walkers, need wider doorways and halls, direct access entries with fewer sharp corners to maneuver and baths with accessible fixtures. Older homes tend to have narrower doors and hallways. Even if older adults do not need such aids presently, they may in the future.

Social spaces: Do you need a family room separate from a more formal entertainment area? Does your household require more private or quiet spaces? Are you likely to entertain large groups of adults? Children? Before buying based on size alone, consider how the shared spaces will be used. For example, some blended households may have older teens and young adults as well as toddlers and preschoolers. Having more than one social space allows family members to socialize in an age-appropriate space without being confined to their rooms.

Entertaining: For some households, the number and size of bedrooms is less important than the space available for you to host dinner parties, game nights, or large gatherings. Let your agent know if entertainment space is your priority so that the homes you view include open-concept areas conducive to sizable gatherings.

Workspace: With more folks working from home now, your need for more space might include the need for single or multiple office options. Some people work well within hearing of the household noise and bustle while others need a quiet retreat. Discussing these differing work styles ahead of making your purchase ensures that everyone's needs are addressed.
Whatever "home" looks like to you; your agent is ready to help you find it. Make one list of everything that your household needs and another of the additional items you want and share it with your realtor.