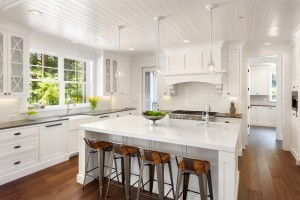 There's a lot to love about a builder grade home, for example, the fact that it is newly built and doesn't come with the host of issues of an older home. However, these homes can lack in the personality department since the focus when being built was on the budget and not magazine worthy style. Keep reading to discover how you can add stylistic flair to your home without draining your bank account.
Light fixtures. Changing light fixtures by either replacing them completely or painting them can make a huge difference in a room. Picking up a few cans of rubbed bronze or satin nickel spray paint will give a modern touch without breaking the bank.
Doors. Replace or reface generic hollow core doors. You can reface flat doors by adding molding or get creative with a can of paint and a roll of painter's tape and make the illusion that you have a raised panel door. Beadboard paired with molding is another great combination that adds personality to your doors without the major price tag.
Stairs. Strip carpeting to expose treads and risers. Here's where you can let your imagination go wild. Pick up some cans of paint and add a unique touch to your staircase by painting railings and  risers to add a pop of color. Avoid painting your stairs all one color to avoid a bland look. You can even paint a faux runner to really add a unique touch.
Cabinets.
 Replacing cabinets is always an option albeit a pricey one. If you're happy with your cabinet layout you have a few diy options available. Variation can be the spice of life. Try removing some cabinet doors to keep things open or installing some glass paneled doors. Paint is always an option whether professionally sprayed or done by yourself. Another easy way to add some personality to builder grade cabinets is by updating hardware. Look for knobs and handles at antique shops to add a unique touch on a budget.
Millwork.
Molding, wainscoting, and beadboard. Oh, my. With this trio on your side, the possibilities for customization are endless. Frame a plain bathroom mirror, add chair rails or extend baseboards. With a little creativity, you can even recreate the look of coffered ceiling or paneled doors. If you are unsure of where to start, try looking through some home magazines for inspiration.
Wallpaper.
Wallpaper gives you endless options for adding flair to the walls of your home. Add a pop of color with bright, bold patterns or texture with paintable varieties. If you don't want to make a commitment to wallpaper or the idea of scrapping it if you change your mind fills you with dread there are now a plethora of temporary wallpaper options.
Tile.
Hexagon and subway tiles are both guaranteed to add a modern feel to your home. However, your options today are endless no matter your budget. Explore the selections at your local home improvement store and don't rule out materials fabricated to recreate a stone or wood finish. After all, there's no need to empty your wall out just to get the look you want.
Just because you've fallen in love with a builder grade home doesn't mean it needs to stay quite so basic. If you want to add a touch of modern style to your home a little creativity and paint can go a long way. Don't forget to sit back and enjoy all your hard work when you're finished!